The Big 4. The world's biggest and greatest accounting firms. Most of which have revolutionized the way we invest and in many ways have transformed how we work. But how do they fare when it comes to diversity and inclusion? Their history of discrimination and male-dominance is evident, but times have changed.
Today, according to Catalyst, more than half (61.3%) of all accountants and auditors are women. This is a staggering increase from the 39% they had in 1983, which at that time was considered a giant step forward.
But while this is brilliant, only 24% of partners at accounting firms are women. And about women of color? Or men of color?
The stats are limited, so we decided to take our own look. We used our proprietary methodology, the Employer Brand Index, to collect all the diversity and inclusion user-generated data available about Deloitte, PWC, EY and KPMG from platforms such as Twitter, Instagram, Glassdoor, Reddit, Quora, Indeed and more.
We looked at everything candidates, employees and alumni said online in Q2 of 2018. And while the data is representative of a 3-month period only, it does provide an excellent snap-shot of the current state of diversity and inclusion at the accounting giants.
Here's what we found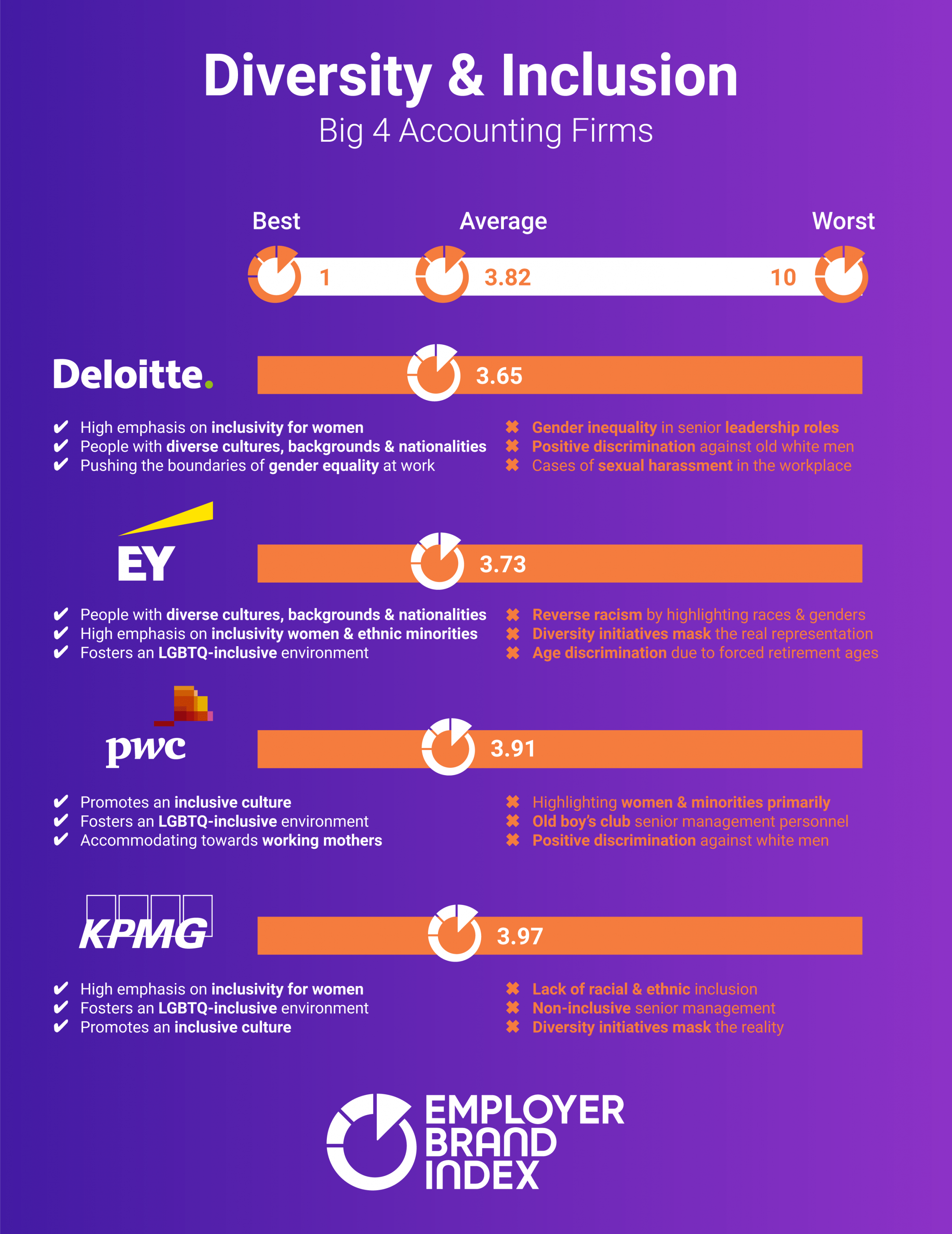 1. Deloitte (3.65)
At first place, we have Deloitte, and possibly due to the presence of their CEO, Cathy Engelbert, a staggering 32% of all diversity and inclusion-related commentary on Deloitte revolved around the barriers being broken for female professionals at the company. Significantly we did also find positive commentary on the diversity of cultures, backgrounds, and nationalities at the company (10%).
One significant issue we did find was the people reported gender inequality in leadership roles, specifically a lack of females (11%). As well as minor issues such as positive discrimination against older white males (6%) and cases of sexual harassment in the workplace (5%).
2. EY (3.73)
In a close second place we have EY, who scored well on our scale due to a mixture of three positive themes; working with diverse cultures (17%), inclusivity for women and ethnic minorities (13%) and cultivating an environment that embraces a diversity of sexuality and those whom recognize as LGBTQ (10%).
One significant negative was the topic of 'reverse racism', similar to positive discrimination, which in concept discriminates against a dominant group in favor of a minority group. And in EY's case, people believed this was happening in favor of women and specific races (10%). Additionally, there is minor belief that diversity initiatives aren't a real representation of what was happening in the workplace (6%), age discrimination based on forced retirement ages (5%) and women not being paid as much as men in similar roles (4%).
3. PWC (3.91)
Third, it's PWC, whom alike to EY scored well on the EBI scale due to a mixture of three positive themes; fostering an LGBTQ-inclusive environment (15%), promoting an inclusive culture (12%) and creating an environment that is accommodating towards working mothers (10%).
One negative that was visible than others than other was was, like EY, was this positive discrimination for women and minorities above everyone else (13%). A consistent issue we saw spring up among all of the Big 4. Furthermore, minor issues such as an 'old boys club' senior management (7%) and discrimination against white men due to new hiring shortlist at PWC (5%).
4. KPMG (3.97)
Last but not least, we have KPMG, who also scored above average on our scale. One major positive was the high emphasis people believe the company places on inclusivity for women (23%), as well as being LGBTQ-inclusive (12%) and continuously like promoting an inclusive culture (10%).
Negatively, one evident issue found was the belief that there is a lack of racial and ethnic inclusion at KPMG (13%). Minor issues such as non-inclusive senior management (7%), diversity initiatives as a mask and not the real representation of life at KPMG (6%) and the belief that KPMG is 'missing the mark' on diversity in general (5%).
The evolution of the typical accountant
The stereotype that accounting is only for men, specifically heterosexual men, is now laughable. It just isn't the real representation of the accounting industry, at least at the Big 4.
Over time we've seen super positive increases in the number of females earning accounting degrees at college, as well as the evident excellent balance of men and women in accounting roles.
But that gender inclusion we see, based on our findings, is evolving and we see far more LGBTQ-inclusion at the biggest accounting firms in the world, as well as a mission to hire more and more people of color.
It's not perfect yet, but it's evident that the Big 4 firms are supportive of diversity efforts and contribute a significant amount of time to improve areas of diversity within their workplaces.
An evident commitment to female inclusivity
What is apparent is that there is a real commitment to empowering women at the Big 4, a consistency we also found studying the Top 10 Tech Companies using our Employer Brand Index methodology.
The findings, especially regarding females is staggeringly similar between the accounting industry and the tech industry. One the one hand we found plenty of comments regarding the female-friendly environs being created at the Big 4, the flexibility of schedules for working mothers and more. On the other hand, both industries lack women in leadership positions and a gender disparity in pay.
But the overall outlook on women at the Big 4 is positive, and we look forward to seeing females flourish in accounting as time goes on!
Issues with positive discrimination
A consistent theme throughout the commentary on EY, Deloitte, KPMG, and PWC, was this issue of positive discrimination or even reverse racism.
This issue of, mainly, favoring a specific set of individuals over others, such as gender, sex, age or race. We've seen it mentioned in almost all of the big companies we have worked with. An example of this specifically regarding the Big 4, is the hiring policies people believe are occurring, that favor woman and people of color over males, specifically white men.
And while you should always hire the best person for the role, regardless of gender, sex, race, religion or age, the moral case for building a more inclusive and diverse workplace is indisputable.
So battling between these two aspects is a challenge for the biggest companies in the world, and because of that diversity at work can never be perfect. But you can do a good job of it and actively try to improve it, and as the scores show for the Big 4, they seem to be doing just that.
Interested in how your company measures up for D&I and other attributes? Check the Employer Brand Index today.
---