We recently analysed the best dedicated Facebook Career pages in Europe and here are the results in an infographic. We hope this study will provide you with some inspiration for you to enhance your company page with better design or relevant apps.
Here is a comment by Charles Schmidt, Corporate Social Media Officer at Krones of Germany, with the overall best Facebook Career page in Europe:
Krones' corporate personality is not determined by the Executive Board alone – it is created by the firm's staff. Because it is they who give Krones its human face: a face that our clients recognize everywhere, one that they trust, respect and appreciate. 
Methodology
How did we do this study? We looked at a number of factors and these were given different weighting as indicated in brackets below.
Best design (weight 2): The design needs to have a proper identity. Profile picture, cover photo and app tabs have to be consistent.
Number of posts in the last 30 days (weight 2): The page needs to have life so you should post several times a day.
Most relevant tabs (weight 1): Application tabs need be relevant, useful for the user and have consistency.
Highest engagement (weight 3): To calculate the engagement with the fans of the page we multiplied by 100 the number of people who were talking about the page and then divided by the number of fans.
Number of fans (weight 5): Having lots of fans is a good thing but is not the most important. Even if this criteria is important in our ranking we didn't want to handicap the small pages. This is why we looked at the engagement too.
Bonus (2x2 points): We decided to give a 2 points bonus to the pages that allow you to post on their timeline and 2 other points if you could send them a private message. Don't forget to be as much social as you can so allow your fans to send you their feedbacks and suggestions.
Scroll down below the infographic or click here to see the full research tab we used.
RELATED: LinkedIn Usage by Country [SLIDES]

You can find our research tab below (click for a large version):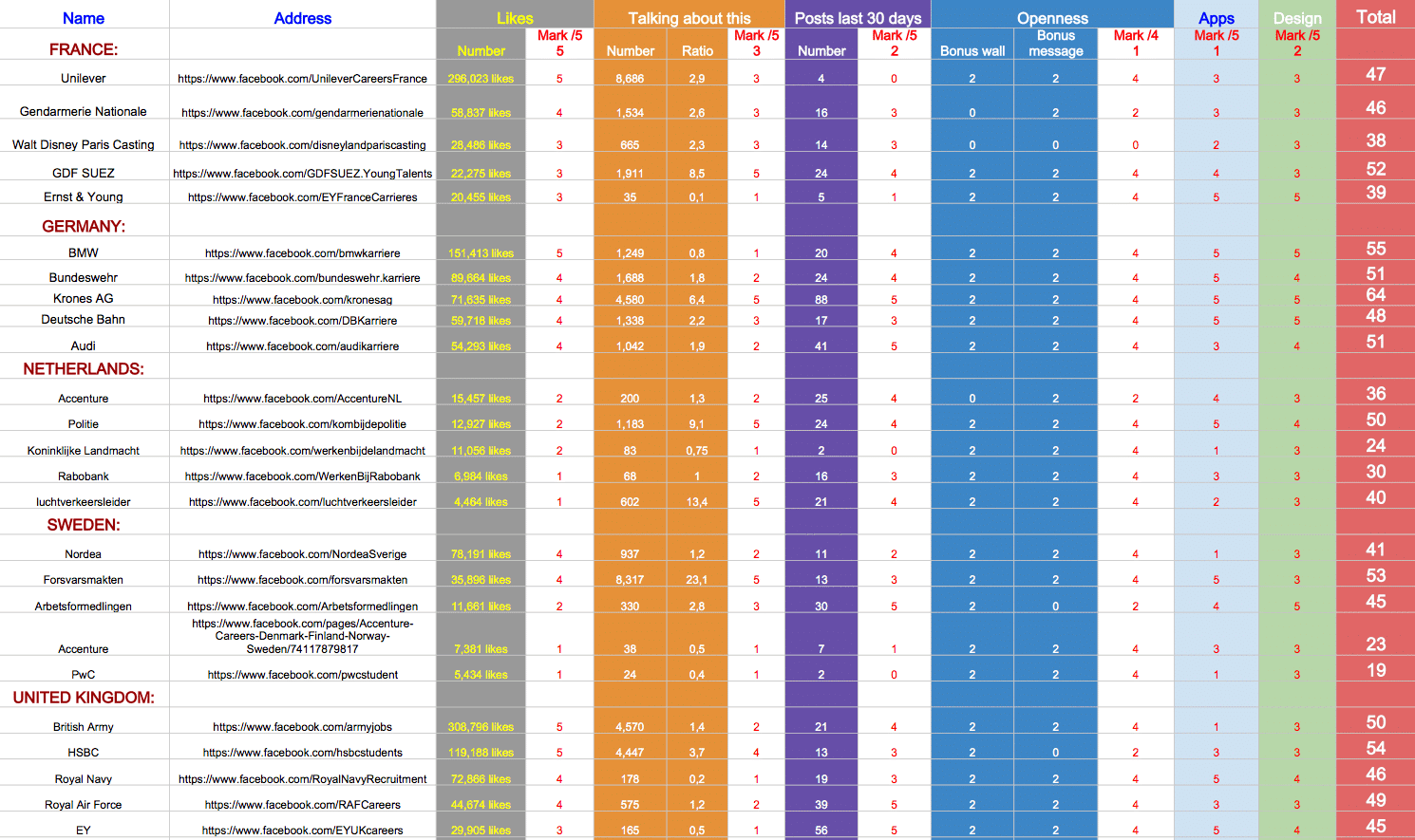 Any questions? Just leave a comment or tweet us at @LinkHumans!
---