Innovation and banking are two words not typically mentioned in the same sentence. But digitalization is happening, and it's happening in the banking industry at a surprisingly quick pace with the continuous growth of the Fintech sector; new investment platforms, new banking apps, cryptocurrencies and much more.
As Innovation and Technology is one out of 16 attributes that constitute the Employer Brand Index, we felt it necessary to do some research on this attribute within an industry that is seeing major disruption because of it.
How we did it
We then scoured through thousands of publicly available comments on the user-generated platforms such as employer review sites, forums, blogs, and others. We looked in places like Glassdoor, LinkedIn, Indeed, Instagram, Comparably, Twitter, Facebook, Reddit and much more.
We collected all the English language-based comments we could find in Q3 of 2018 (July, August, and September) and then measured these findings using our Employer Brand Index methodology, scoring each company on our 1 to 10 scale, 1 being the best score you can get and 10 being worst. Everyone is aiming for position 1! 
As this research is based on 3-months of online data, it should only be viewed as a snapshot of Innovation & Technology at these companies and not an entirely accurate representation of the reality. Yet it should draw definite conclusions as to what the state of Innovation & Technology is like within the US banking industry as a whole and what the most prominent issues might be.
The most prominent themes found throughout the research were:
The technological infrastructure within the workplace

The speed of adoption of new technologies

The business investment in new technology

Learning new technologies in your role

The culture of innovation within the company

Digital banking & cryptocurrencies

The technical knowledge of leadership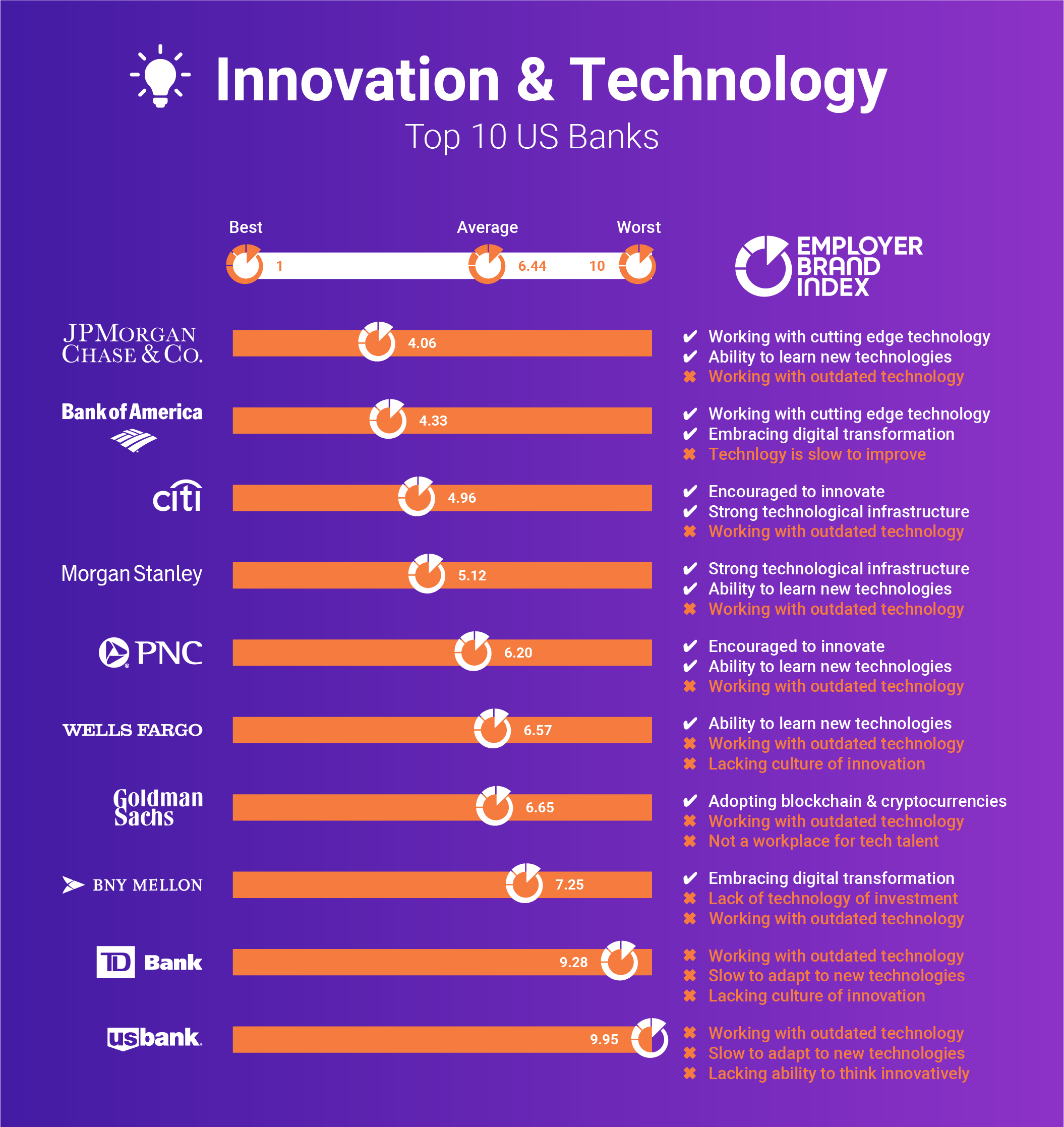 NOTE: Below is a summary of how each company performed. The percentages noted are based on the data sets for each company, and give a good indication of what themes played the most important parts in the scoring for each company.
1. JP Morgan Chase (4.06)
At first place, we have JP Morgan Chase, who scored a respectable 4.06 thanks to a variety of positives. The most prominent ones were:
Working with good & new technology (25%)

Promoting digital banking & cryptocurrencies (12%)

Being encouraged to work or think innovatively (12%)

Ability to learn new or different technologies (11%)
On the other hand, the only significant negative theme making up a high percentage of JP Morgan's commentary was regarding the company's tech systems being outdated, which made up 15% of the commentary. Yet when you compare sentiment on this issue, the amount of people who believe they work with good or new technology almost doubles the number of people who believe the technology is out of date.
Upon analyzing the data, it is evident that JP Morgan Chase's data exhibits four strong areas to build upon and doing so will allow them to continue to stay ahead of the curve when it comes to Innovation & Technology.
2. Bank of America (4.33)
In a close second, we have Bank of America, who scored well with 4.33 thanks to strong commentary on the workplace technology offered at the company which people believe is "industry-leading" and "cutting edge", of which made up just over 36% of the commentary.
Some other positive findings, similar to JP Morgan Chase, was the commitment to digital banking & cryptocurrencies (15%) and on a smaller scale was the culture of innovation at the company (9%)
What hurt Bank of America's score, like JP Morgan Chase, was the belief that the tech systems at the company were outdated or slow (16%). On top of that were minor comments towards the lack of a culture of innovation (4%) and the inability to learn new technologies (3%).
What sets Bank of America and JP Morgan Chase apart from their industry competitors is how much emphasis the companies put on cutting edge technology and the culture of innovation that is brewed within the respective cultures.
3. Citigroup (4.96)
Moving towards some of the more average scores, we have Citigroup (or Citibank), who scored a 4.96 due to mixed commentary primarily on the overall quality of their tech systems.
One the one hand, the research showed that 25% of Citigroup's commentary showed positive sentiment towards the technology within the workplace with people using words such as 'good technology' or a 'good tech infrastructure' quite commonly.
But on the other hand, 21% of the data showed quite a negative sentiment towards the technology being old or outdated with comments such as 'not up to date with the latest technologies' or 'working on legacy technologies rather than cutting edge' showing up often.
Significantly though, 21% of the data showed that Citigroup held a high emphasis on innovation. With just 8% of people claiming that Citigroup was a bank that is slow to adapt and behind their competitors technologically.
Therefore while it is evident that Citigroup may need to improve their technological infrastructure and speed of tech adoption, they do have a strong culture of innovation, and if this is sustained over time, it will help them climb the ranks and take JP Morgan's top spot.
4. Morgan Stanley (5.12)
In fourth place, we have Morgan Stanley who would have scored well if it weren't for the presence of a particular theme, one which is consistent in this research; working with old or outdated technology.
Significantly, this theme made up 35% of its data and thus puts the company at a score of 5.12. There were no other prominent negatives that were statistically relevant and thus were left out of the analysis.
On another note, significant positive commentary on Morgan Stanley's Innovation & Technology could be broken down into two main categories:
Working with good & new technology (26%)

The ability to learn different or new technology (15%)
While Morgan Stanley should continue to update tech systems, an area that seems to be in urgent need of attention, the company does score well in other areas of innovation and being afforded the ability to learn new technologies while at work can be critical to the improvement of this score down the line.
5. PNC Financial Services Group (6.20)
Moving towards some of the below average scores, PNC Financial Services Group scored a 6.20, which indicates it has below average innovation and technology. Some of the positive takeaways were:
Working with new, up to date or cutting edge technology (17%)

The ability to learn different or new technology (13%)

Being encouraged to work or think innovatively (13%)
Once again though, the only negative making up a high percentage of the commentary was regarding the old and outdated systems. Significantly, this made up 42% of the data, and like its competitor Morgan Stanley, PNC should focus attention on updating its systems to improve not only the Innovation & Technology score, but also other important aspects of the employer brand.
6. Wells Fargo (6.57)
In 6th place, we have Wells Fargo, which has the largest employee base with over 230,000 employees. The company scored a below average score of 6.57 due to the following primary issues; a lack of innovation or the ability to innovate (10%), and the outdated tech systems (33%).
It wasn't all doom and gloom at what many people regard as America's most popular bank. We found three points of encouragement:
Working with new, up to date or cutting edge technology (15%)

The ability to learn different or new technology (14%)

Having a strong culture of innovation (13%)
So while issues with outdated tech systems need to be addressed, the data shows that the culture of innovation within the organization and the ability to learn new technology indicates that Wells Fargo is comfortable with digitalization happening within the banking industry.
7. Goldman Sachs (6.65)
In 7th place with a score of 6.65, we have leading global investment banking company Goldman Sachs. Two areas that set them apart for the rest was the company's adoption, and embracement of cryptocurrencies and the excitement people have of the announcements made within this area which made up 22% of their findings.
Additionally, on a minor scale, there was positive commentary on the robust technological infrastructure at the company (9%).
Negatively, 30% of the data did present commentary on outdated technology and systems at work. This was compounded by commentary on the fact that Goldman Sachs is not a place for tech-minded individuals (13%) and the lack of innovation at the company (9%).
8. BNY Mellon (7.25)
The Bank of New York Mellon scored poorly with a score of 7.25 due to two significant issues. The first one was working with outdated technology, which made up 33% of findings and was found to be damaging the productivity of BNY Mellon's employees.
The other issue was that people believe that company is slow to adapt to technology trends in the market and slow to improve systems, which made up 17% of its findings and goes hand-in-hand with the issue old technology systems and represents of lack of technology focus at the company.
Although on a more positive front, the commentary revolved around the ability working with new, up to date or cutting edge technology (25%) and the culture of innovation at BNY Mellon, specifically the encouragement people receive to think innovatively and creatively (10%).
As the data shows, BNY Mellon does have some issues that may need to be re-evaluated when it comes to tech systems, yet the company does also have two strong bases to build upon in terms of their technological and innovative capabilities.
9. TD Bank (9.28)
TD Bank placed in 9th with a score of 9.28 due to poor or outdated technology at the company. Significantly, this made up 56% of the data.
On top of this, TD Bank did also see minor issues with the lack of innovation within the company culture (11%) and the company is slow to adapt to new tech trends (11%).
TD Bank did see minor positive commentary on the modern technology infrastructure at the company, but this only made up 7% of TD Bank's data and consequently did not impact the score significantly.
10. U.S. Bancorp (9.95)
Lastly, we have U.S Bancorp, more popularly known as U.S. Bank, who scored 9.95 due to issues very similar to TD Bank.
Much of its data was compounded by issues with the poor or outdated technology at the company, which made up 67% of their commentary and people consistently used words like 'archaic,' 'awful' and 'outdated' to describe the tech infrastructure at U.S. Bank.
As well as this, there was further negative commentary on the company being slow to adapt to new technology trends (14%) and the lack of innovation within the company's culture, explicitly being encouraged to think innovatively and have the tools to do so (7%).
There were no consistent positive comments to note, which is indicated by a paltry score of 9.95.
Legacy IT systems will force talent to leave
With all ten companies seeing significant issues with outdated technology, it is clear that there has to be more emphasis put on the tech infrastructure at banks. As the graph below shows over 30% of the combined data on all companies revolved around the outdated technology systems.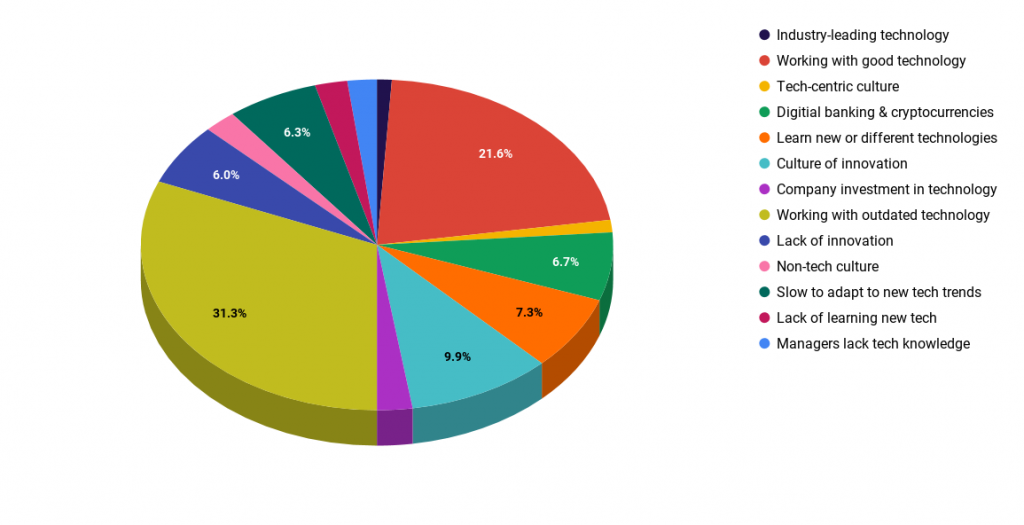 People were frustrated by the lack of investment in new technology in the workplace and the damage this does their productivity. Citi Group's CEO, Stephen Bird, recently commented on this issue as an 'extinction phase' when discussing the challenge the banking industry is faced with when trying to keep up rapid rise of financial technology, and other aspects digital banking.
And while it is clear that this serves as a significant implication to how competitive banks are in the eyes of consumers, it is also significantly damaging to their talent attraction efforts and employer brand health. Because when it boils down to it, talent in today's tech-centric working world wants to be afforded the best technology to do their best work. And that is why J.P. Morgan and Bank of America ultimately scored better than the other eight banking giants in this report.
Developing a culture of innovation is important
While the topic of innovation was low in comparison to other themes, we did find that the sentiment on the culture of change within the banking industry was primarily positive for seven out of the ten companies. Only TD Bank, U.S. Bank, and Wells Fargo showed significantly negative commentary on the topic of innovation for the period.
For example, people were happy to speak about the encouragement they receive to innovate and think innovatively in the workplace. And while the overall scoring was quite poor for most of the companies looked at in the period, this research does highlight the importance of innovation to the banking industry. It is clear that leadership is doing what they can to empower their employees to innovate while at work and think creatively to stay relevant in an ever-changing industry. 
We now live in a world where innovation and technology go hand-in-hand, and therefore you need to get both right. Promoting a culture of innovation will, of course, depend on a number of different things but having the right technology in place is definitely one of them.
Interested in how your company measures up for Innovation & Technology and other attributes? Check out the Employer Brand Index today.
---